At Least 100 are Infected with Covid 19 On Mount Everest at the Base Camp According to a Guide
Peyton Feldman 
5/23/2021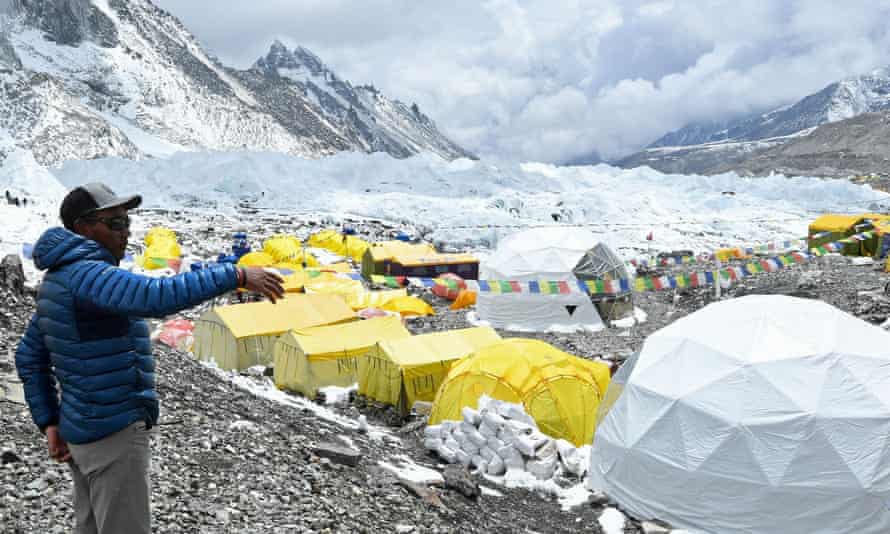 A coronavirus outbreak has infected more than 100 climbers and support staff according to an expert climbing guide. This is the first comprehensive approximation amid official Nepalese denial covid spread on the world's highest peak. 
A total of 408 people were permitted to trek the mountain along with several hundred Sherpa guides to assist them who have been stationed at the base camp since April. Mountaineering officials at the mountain have denied covid case and they've received backlash for lacking transparency of the severity of the situation. At the start of May, Nepal tourism officials were only posting climbing updates with no mention of the virus, despite tourist calling it a "shitstorm". 
Lukas Furtenbach of Austria halted his Everest expedition because of a looming fear of the virus. He mentioned on Saturday that six Nepali Sherpa guides, and one foreign guide tested positive. NBC news says that "his estimate is based on confirmations from rescue pilots, insurance providers, doctors and expedition leaders, among others". He also witnessed people sick at the base camp coughing in their tents. 
Furtenbach also stated that no one had testing kits around until his team showed up. Apparently The Guardian states Most teams were still at base camp, hoping for clear weather next week so they can make a final push to the summit before the climbing season closes at the end of the month. The first-person at the Mt Everest base camp to test positive was a Norwegian climber in late April. He was treated and later returned home. 
Mountaineering was closed last year due to the pandemic. Even though Nepal is experiencing a virus surge with about 8,607 new infections and 177 deaths reported on Friday. The nation has a total number of 497,000 cases and 6,024 deaths. They opened Mt Everest to tourist this season despite the numbers. 
Sources 
Everest Covid outbreak throws climbing season into doubt | Mount Everest | The Guardian 
Mount Everest Covid outbreak has infected 100 people at base camp, says guide | Mount Everest | The Guardian 
Climbing guide says coronavirus outbreak on Mount Everest has infected at least 100 people (nbcnews.com)